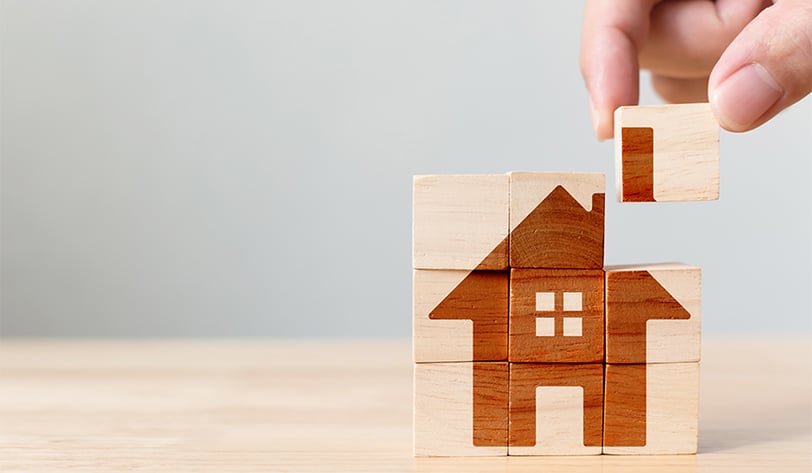 What Is Home Equity?
Let's start by talking about what home equity means. Home equity is the value of your home minus the amount you still owe on your mortgage. For example, if you had a home that's currently valued at $350,000 but you still owed $100,000 on the mortgage, you'd have $250,000 of equity in your home. Equity is commonly referred to as the portion of something that you own. So, in this case, you'd "own" $250,000 of your home. Your equity can increase as you continue paying down the mortgage and if your home value goes up.
What Is a Home Equity Loan?
There are two main types of home equity loans: second mortgages and home equity lines of credit (HELOCs). While there are differences between these two loan types (which we'll briefly address below), both use the equity in your home as collateral. This generally means that the more equity you have, the larger your home equity loan could be.
Second Mortgages
This type of home equity loan gives the borrower a lump sum of money that they must pay back over time, just like on a regular mortgage. These typically come with a fixed interest rate that is lower compared to other loan types.
Learn more about Cyprus second mortgages here.
HELOCs
A home equity line of credit works similarly to a credit card. The borrower is approved for a certain amount of money and can use it whenever they need to, as long as it's during the draw period. During the draw period, the borrower can use or "draw" funds from the line of credit and only pays back interest on the amount they've used. Draw periods on Cyprus HELOCs may last up to 10 years. Once the draw period ends, the repayment period begins. During this time, the borrower must make payments on both interest and principal. The repayment periods on Cyprus HELOCs can vary, but may generally last up to 10 years.
Have more questions about Cyprus HELOCs? Click here to learn more.
Getting a Home Equity Loan
To get a home equity loan, you must first apply with a lender. They'll take a look at your credit history and score, income, the amount of equity you have in your home, and other criteria to determine whether or not you qualify for a home equity loan. If approved, the lender will tell you how big of a loan you're approved for. The interest rates for home equity loans are often lower than with other loan types because your home is used as collateral, making it less risky for the lender.
If you're interested in applying for a home equity loan with Cyprus Credit Union, apply here or visit our Home Equity Loans page for more information.
Using Home Equity Loans Wisely
Home equity loans have some attractive benefits. But if a borrower fails to meet the loan conditions, the consequences can be serious, including foreclosure. For this reason, there are two things to keep in mind: (1) Using a home equity loan responsibly is crucial to protecting your home and financial well-being, and (2) if you find yourself in financial trouble and are worried you may not be able to pay on the loan, reach out to let your lender know and to see if there are any arrangements that can be made.
The money from a home equity loan can be used in a variety of ways. One of the most common uses is for funding home improvements. Other borrowers may even use the money to fund weddings, family vacations, or big-ticket items. As long as you know you can meet the obligations of the loan comfortably, there's a lot the funds can be used for. It's even better if the money can be used to pay for things that could benefit you financially going forward, such as:
Home improvements
Investing in your home can increase its value and make it more comfortable for you and your family.


Debt consolidation
Paying off high-interest debts with a home equity loan can help you save money on interest payments.


Education expenses
Using a home equity loan to fund education can be an investment in your future.
Takeaway
Home equity loans can be a good way to put your home's value to work. Remember: To make the most of these loans, it's essential to borrow only what you need and can comfortably repay. This can help you to safeguard your home and financial stability.
Questions?
Contact a Cyprus home equity loan advisor at 801-260-7600 (ext. 5330) or email HomeEquity@CyprusCU.com.
______________________________________

The above article is for informational and educational purposes only. Membership and eligibility requirements apply in order to be approved for a Cyprus home equity loan or other Cyprus product. The information in this article is correct as of its publish date. If you have any questions or would like to verify that the information above is still correct, please contact Cyprus Credit Union Home Loans using the contact information in the Questions? section.