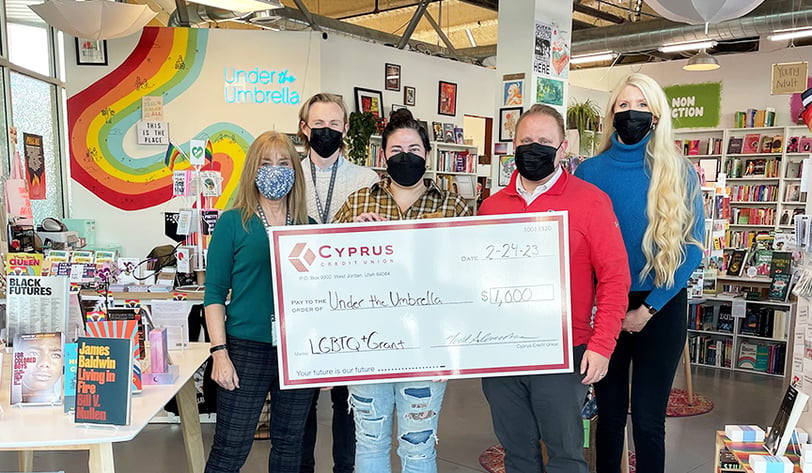 It's been over a year since Kaitlyn Mahoney opened her business, Under the Umbrella: A Queer Little Bookstore. But don't let the name fool you. The space in this Salt Lake City bookstore is brimming with literature, art, and merchandise, with every corner serving a purpose.
"I think that's partly my fault, because I called it a 'queer little bookstore,'" Kaitlyn jokes. "People are amazed when they come in by how big the space is and how many books there are, which was part of my initial goal, honestly. I was like, 'We are here. We do not belong on one small, gender-and-sexuality shelf.'"
Under the Umbrella is one of over 230 member businesses in the Utah LGBTQ+ Chamber of Commerce. In partnership with the chamber, Cyprus is honored this year to present 12 member businesses with grants of $1,000 each as we recognize their contributions to the community. Under the Umbrella was selected as a grant recipient.
It's only fitting that Kaitlyn's journey toward becoming a business owner—specifically a bookstore focused on the LGBTQ+ community—began with her love of reading.
"[I had] literally no experience. Never worked in a bookstore. Never owned a business. It's just that reading queer books when I was in my mid-20s is how I came to learn more about myself and my identity. So, once my eyes were opened to the possibilities, I just wanted more and more of it."
Finding the reading material she wanted, however, was harder than expected.
"I thought, 'It shouldn't be this hard.' And eventually, it just morphed into, 'Somebody should open a queer bookstore.' I eventually was like, 'Well, I guess nobody else is going to do it, so I will.' It was my New Year's resolution in 2021."
What started out as a New Year's resolution became reality when the store opened in November of the same year. Now, the shelves of Under the Umbrella are teeming with books for all ages and interests, from history to comic books, and memoirs to graphic novels.
"We have books on allyship, gender and sexuality, if you are interested in learning more about a certain identity, some self-help, a ton of poetry," says Kaitlyn. "We've got a horror book club, a romance book club, science-fiction fantasy book club."
But it isn't just literature and book clubs that fill the space at Under the Umbrella. The store also hosts poetry nights, guest speakers, queer speed-dating events, craft nights, and more. Meeting rooms can even be reserved at the store for other activities. These engaging events have transformed the space into more of a gathering place for the LGBTQ+ community than just a bookstore. This idea of community and giving back to others is a critical part of Under the Umbrella's identity.
"We've got this give-and-take wall, where people can buy an item in the store and pledge it to someone else or offer their own services."
Take a look at the give-and-take wall, and you might find services being offered for haircuts, makeup, or even tarot reading. Patrons can also make monetary donations to the wall so that other shoppers can use the money to make purchases of their own.
"We have a community-curated shelf, where an individual or a group in the community curates a bookshelf of their favorite queer books, and then they choose an organization to get 5% of the sales from those books for the month."
As for her thoughts on the responsibilities of business ownership, Kaitlyn says it's rewarding but comes with its own challenges.
"It's amazing. I love, I love this bookstore so much. I love the community. I love choosing the books, finding new queer books to share with the community. It's awesome. The accounting, no. Not so much. It's a lot of those boring, businessy things that I think a lot of people, when they're starting a business that they're passionate about, don't necessarily think about how much time and energy that's going to take. And you've got to be really passionate about the thing that you're doing to make that worth it."
But for Kaitlyn, the bookstore isn't just a business. It's an extension of her identity. That's what makes owning her business all the more fulfilling.
"If this weren't a queer bookstore, if this weren't a queer community space, I wouldn't be able to do it. It simply would not be worth it for me without that element of out-and-proud queerness."
While Kaitlyn describes the community feedback she's received as overwhelmingly positive, she acknowledges that there is unfortunately some risk that comes with declaring her business as queer-owned.
"Every day, I'm like, 'Anything could happen because we are visibly queer.' But at the same time, I know how empowering it is for me and also for other people to see queerness named, and out there, and proud. And for me, obviously, I decided that being as loud about the queerness as possible was going to be what we did while recognizing that it's simply not possible for everyone. But I've found it worth it for me. I've found amazing community because of it, and I know that it means a lot to other people too."
Kaitlyn is quick to point out that she has a lot of help operating the store, most if it from hard-working volunteers.
"People just want to help the space survive, and it wouldn't survive without the volunteers," she says. "I have a volunteer who comes in and looks over supplies and makes me a list of the things that we need. I have a volunteer who started reaching out to organizations for the curation shelf and coordinating with them to get pictures taken, and to make sure that I know what books to order for them. This space really could not exist in the way that it exists without volunteers."
Under the Umbrella is located at 511 West 200 South, Ste. 120 in Salt Lake City. To learn more about the bookstore or to find operating hours, visit UnderTheUmbrellaBookstore.com. They can also be found on Facebook, Instagram (@undertheumbrellabookstore), and X (@UTUBookstore).