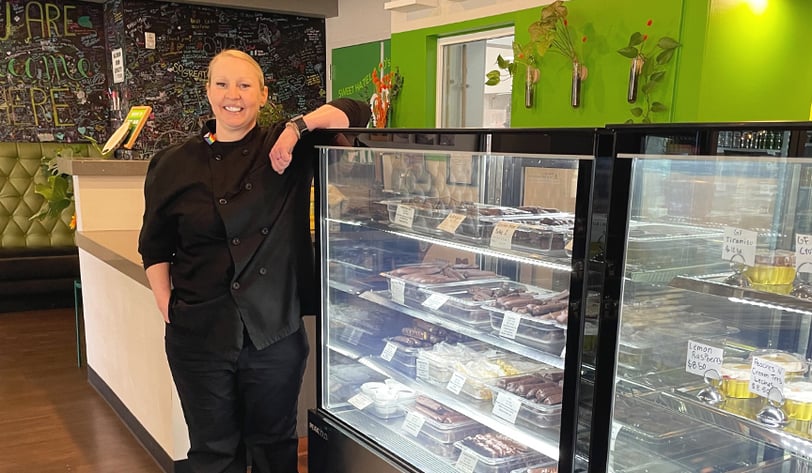 You can't help but notice the large assortment of confections on display at Sweet Hazel & Co. in Midvale. But these aren't your average, everyday treats. Everything in the restaurant is 100% vegan, from the desserts to the dozens of menu items tidily written on the wall behind the service counter.
"Quality and variety are what set me apart," says head chef Felicia "Fee" Hanson. She and her wife Lori Hanson are the owners of Sweet Hazel & Co. Bakeshop & Bistro.
"I have chocolate, I have cakes, I have food, I have everything."
And she means it. Breakfast and brunch are served all day long here, along with burgers, salads, soups, and more. Fee hopes that her culinary creations can help reshape the way people think about vegan food.
"I want people to be able to come in, order, and say, 'This is good. Oh, it's vegan? It's good,' instead of, 'Oh, it's vegan. It's gonna be bad.'"
Sweet Hazel & Co. is one of over 230 businesses represented by the Utah LGBTQ+ Chamber of Commerce. This year, Cyprus Credit Union is partnering with the chamber to highlight the contributions of our LGBTQ+ neighbors by awarding 12 grants of $1,000 each to queer-owned businesses. Sweet Hazel & Co. was selected as one of the grant recipients.
Fee's path toward opening her own restaurant began when she transitioned to a vegan diet four years ago. The change was prompted by her concerns surrounding factory and dairy farming. Now, she finds fulfillment in feeding people with different dietary needs or preferences.
"I get to help the animals and the humans too. That's why I do it," Fee explains. Given her background, perhaps no one is better suited to take on the task.
"I've been in the [culinary] industry my whole life, so I have a good understanding of food."
Drawing upon her experience, Fee started out by making vegan candy bars at home and selling them from the back of her car. It wasn't long before she had a line of customers.
"Sometimes, there would be 15 cars lined up," she recalls. "The vegan community went wild. And since then, I haven't looked back."
Eventually, Fee shifted from her home to a commissary kitchen, where she continued making her creations while also working as a sous-chef. But after realizing that both jobs were putting too much on her plate, she opted to focus solely on growing her business from the commissary kitchen.
In August 2022, Fee finally made the move to her current location in Midvale. It was here that she was able to turn her dream of opening a bistro into a reality.
"The business grew a little, a little, a little, and then a lot. This was the big jump. Essentially, I'm running five businesses out of here. I have the bakery, the mini mart, the bistro, online, and shipping wholesale. And then I also have accounts all over the valley."
Joining the LGBTQ+ Chamber of Commerce has also helped with business, says Fee.
"Lori signed us up [for the chamber] one day. And what's cool is that we get a lot of business from it, especially during Pride Month."
Now, the Hansons have a loyal customer base that keeps them busy. Every week, Fee and her staff bake hundreds of cakes and churn out thousands of candy bars, many of them hand-dipped. The company also ships wholesale to other states, including California, Hawaii, Minnesota, New York, Oregon, Tennessee, and Texas.
"I never thought it would happen. Never," says Fee, reflecting on how far her business has come. "I come out here [to the dining area] when it's quiet, and I'm like, 'I literally created this.' It's perfect."
But as Fee will tell anyone who aspires to business ownership, perfection isn't a requirement when you're just starting out.
"Everything does not have to be perfect. People really get caught up in, 'Is this perfect? Is this good enough?' If you think too much, then you won't do it. It will work or it won't. If it doesn't, you'll go somewhere else. That's how you have to look at it. Because if you're scared, you're just not going to do it."
She also emphasizes the importance of asking for help.
"Knowledge is power. If you just ask somebody that already has it figured out, you'll save yourself a lot of time and heartache."
But along with the challenges of being a business owner comes the joy of doing what she loves.
"It's fun. I love people to walk in and they can have whatever they want. I have a bunch of sugar free, gluten free, everything's dairy free. I like to try to give everybody an option that comes in."
Fee wants to make different food options more accessible not just within the walls of Sweet Hazel & Co., but beyond them as well.
"I'm hoping to get my candy bars into gas stations. I want people to be able to walk in and just get what they want. Even if you're just dairy free, you can't always have a candy bar. You don't get to walk into a convenience store and get x, y and z like everybody else does."
When it comes to inclusivity, Fee isn't just talking about food variety. As members of the LGBTQ+ community, the Hansons are particularly aware of the importance of providing a safe place for everyone.
"I get it all the time. People come in here, and they're like, 'I just came out [as LGBTQ+] and feel so safe in this space.' What's better for your heart than that? Nothing, I think."
Sweet Hazel & Co. is located at 282 West 7200 South in Midvale, Utah. To learn more or to find their days and hours of operation, visit them online at SweetHazelAndCo.com, Instagram (@sweethazelandco), Yelp, and Facebook.