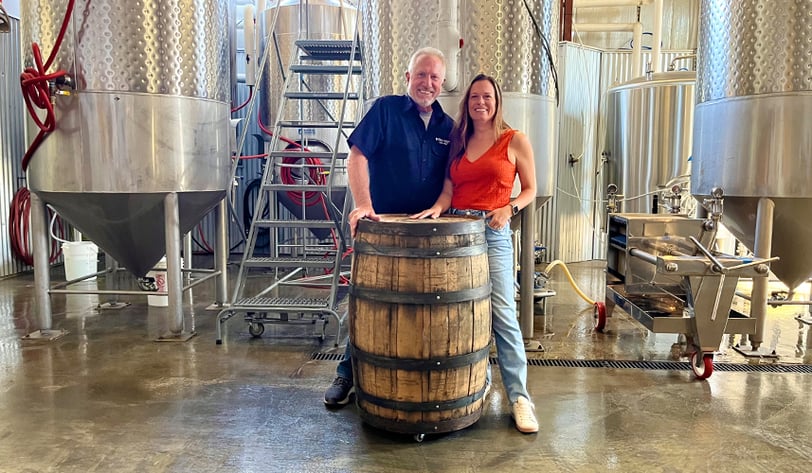 Mountain West Hard Cider doesn't just turn apples into cider. It also turns heads with its award-winning taste (25 awards in 2023, to be exact). The cidery, founded and owned by Jennifer Hamilton-Carleton and her husband Jeff Carleton, is located in Salt Lake City's Marmalade District, giving Utah's capital a place in the centuries-old history of cidermaking.
Mountain West Hard Cider is one of over 230 member businesses in the Utah LGBTQ+ Chamber of Commerce. In partnership with the chamber, Cyprus Credit Union is honored this year to present 12 member businesses with grants of $1,000 each as we recognize their contributions to the community. Mountain West Hard Cider was selected as one of the grant recipients.
The magic all starts in the cidery's tank room, where juice is skillfully transformed into cider under the watchful eye of Head Cidermaker Marcio Buffolo. At the current rate of production, filtering and canning takes place once per week, if not more.
"We have six year-round offerings currently," says Jennifer. "Plus, monthly we'll do what we call 'little orchard series.' They're small batches, always unique, fun, innovative flavors. And then we have seasonals. We've got a lot of products going. Each batch can take about three weeks from juice to package."
Jeff explains that while cider is traditionally made from apples or pears, it's considered a type of wine.
"The process is we're making a white wine. Apples have lower sugar content than grapes, so it ferments out to about 7% alcohol. Grapes are 10 to 13%. The equipment and everything is pretty much winemaking equipment."
Although the company has largely kept to making an assortment of apple-based ciders with variations of botanicals, florals, and fruits, it recently debuted its first perry, or pear-based cider.
"As a cidery, we do really well when we go to any brewery festival," says Jeff. "Nine times out of 10, you want to drink a beer. But one time out of 10, somebody wants something other than beer. So, we're a good fit for anything brewery related. But not everyone always wants to drink a beer. That's why we're in this business."
The couple's mission of providing more beverage choices for consumers stems from a trip to Ireland, where Jennifer developed an appreciation for traditional ciders.
"We came back here, and there weren't a whole lot of options," she says.
After Jeff's employer moved him to Salt Lake City for work, the Philadelphia natives officially made Utah their home in 2010. Though both were professionals in the financial services industry, it was in Salt Lake that their cidermaking journey took shape with the opening of Mountain West Hard Cider in 2014. Nine years later, they are still in the business of providing Utah with their take on traditional cider.
"A traditional cider would be where all the sugars are fermented and turned into alcohol," says Jeff. "[Other cidermakers] will usually ferment to dry, add sugar back in, and then they have to add stabilizers so it doesn't start fermenting again. But we allow all those sugars that are naturally in the fruit to ferment out, and then we don't go back and add sweeteners. So, ours are dry. So much more palatable, I think."
The company operates with a bar license as well as a Package 5 license, allowing them to sell to-go from the cidery, including Sundays and holidays. Live music and food trucks are hosted on the dog-friendly patio or "Garten" during summer, with events moving indoors to the roomy warehouse once weather cools. For the past two years, the space has also hosted the Utah LGBTQ+ Chamber of Commerce's Queer Food FEASTival.
"It's been an almost eight-year initiative of ours to support the LGBTQ+ community," says Jennifer. "We were embraced by the gay community right out of the gate. And we have a lot of support and a lot of folks in that community that really like the cider."
It isn't just the queer community that made the Carletons feel so warmly received in Utah, but the Salt Lake community at large.
"As soon as we landed here, we really fell into the Salt Lake community," says Jennifer. "And that's also about when we really started to see it become more like a scene. It developed over a couple of years—more and more restaurants, more and more chefs coming back here and opening these amazing establishments."
Mountain West Hard Cider aims to not just keep up with the ever-growing Salt Lake scene, but to expand beyond Utah as well.
"The name 'Mountain West Hard Cider' was intentional," says Jennifer. "I would really like to be on the map as one of the high-quality cideries in the Mountain West region."
Regional growth isn't the only thing on the couple's minds. They're also focused on giving back to the community right here at home. Over the past several years, Mountain West has partnered with The Green Urban Lunch Box, a nonprofit which, among other things, harvests local fruit to benefit those in need. But while some fruits are picture perfect, others aren't.
"We said, 'Hey, we know there's a lot of fruit that you can't even give away because it's bruised or not pretty,'" Jennifer recounts. Now, that fruit is given to Mountain West to make The Green Urban Lunch Box Cider. For each bottle sold, $5 is given back to the nonprofit to help combat food insecurity.
Community events are also a priority for Mountain West Hard Cider, with their Harvest Festival taking place on October 21. Jeff and Jennifer are especially excited to feature a mobile juice presser for public use during the event.
"Anybody with an apple tree, bring your apples down and we'll give you a gallon of your juice," says Jennifer. "We'll have live music, things for the kids. It's going to be fun for the community."
The Harvest Festival will be hosted at Mountain West Hard Cider at 425 North 400 West in Salt Lake City. And while you pick the apples from your tree in preparation for the event, why not enjoy some cider too? Mountain West Hard Cider is sold from the company's cider house and distributed to restaurants, liquor stores, and bars throughout Utah.
Learn more about the cidery on Instagram (@mountainwestcider), Facebook, X (@MTNWSTCider), and at MountainWestCider.com.